Posted by steve a on 19th Dec 2013
American Wide Format Paper
Talking here about highest quality papers, an American tradition and original industry of top end Paper Pulp Wood Mills - choose American Made Paper
Back to the oldest American qualified Dietzgen Paper Media
Look over the interactive map below - see how many American Made companies have signed up to buy from other American Made Companies; Architects and Engineers and more! Made in America is a Purpose of the Heart. It really is. Think of this; children of Americans grew up in America having children and grandchildren. Those grandchildren became US. Our, not so distant, relatives ate food grown in the US; they purchased cars from the US. They industrialized pulp wood to build the rooms of their life that started with plans drafted in blueprint 20lb wide format paper. -good information below-

American made paper began.....
The idea is "we put money into American Made and we will see the country bounce back". Read on ... https://abcnews.go.com/WN/MadeInAmerica/mailform?id=12912252 More on Diannes story here on www Wide Format Paper com.

Quote from ABC News = "There is no question that manufacturing still has a major impact on our economy and on the nation's workforce. The United States has fewer manufacturing jobs now than we did in 1941, the same year as the attack on Pearl Harbor, but if every American spent an extra $3.33 on U.S.-made goods, it would create almost 10,000 new jobs in this country. The broadcast will feature several American manufacturers that are making products 100% made and assembled in this country."

Enjoli Francis, Eric Noll, Made in America takes ABC News to the paper.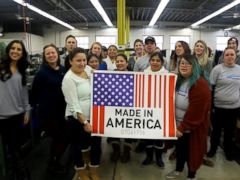 callout mobile=[false] url=[http://abcnews.go.com/Business/ MadeInAmerica/made-america-tackles-super-bowl/story?
February 3, 2018 Story from Sports Super BOWL
by ENJOLI FRANCIS, ERIC NOLL and ESTHER CASTILLEJO , ABC News
We had a call for fire retardant wall paper. He said it was hard to find in the USA, and he was finding after spending over 2 hours on the computer, that China websites were broadcasting into USA under the impression of USA made paper. If you read our blogs, you know our position and concern regarding other countries taking our USA business, our jobs, our workforce, our homes.
It is one good thing to trade good trade with others, rather it be another country or a like business, but it is completely another thing to 'plan to confuse, trick and fool any customer or consumer by saying one thing and then providing another'. Are we saying that we would not sell media from other regions? No, however, are we saying we find it more fruitful to uplift the American hard worker Mill to selling good product and creating good deeds? Yes. If your daughter had a lemonade stand in front of your house that began to sell enough lemonade to pay for your mortgage, then you lost your job - would you promote your daughters stand or a lemonade stand from over seas? LOL - Oh, hard decisions.... not! Now compound the subject with the lemonade stand from over seas promoting themselves as making the lemonade in your yard. Yet, they don't. hmmm ethics? Purpose to consider paper made in the USA.

Our Paper Made in America began over 132 years ago; Eugene Dietzgen founded his own engineering supply house which served as both a dealership and a manufacturers' representative in Chicago, Illinois. We still sell that product today, and specialize in the fitting and manufacturing of paper from American Mills across our Great Country. Today, in the paper industry 'American Plotter Paper' has a world respect with a rock solid reputation. We have bonded relationships with customers; Americans who have been using our American Made paper products and passing the trade secrets from generation to generation. Here is...(more below Dianne Sawyers abc news video)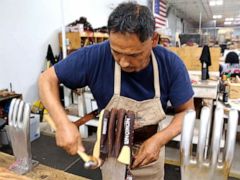 Texas leather company scores with baseball gloves that are made by hand in the US
The first Nokona baseball glove was made in 1934.
April, 2019 Story from Sports
Bookmark this page. Read more here later
Celebrating 20+ years of American Mill Paper Summit Media www Wide-Format-Paper com.



American Architects and Engineers have been using our Quality American Mill Made 20lb Roll Papers for 20+ years and striving for excellence. You have the power to choose. Use it! Choose American Paper from our Mill Families. Get to know us.

Link to Sawyers story here - ABC - Report

In 1885 it was an American that identified a turn-key breakthrough that became an industry for our future. We still sell and support his paper, and American Made bond CAD plotter paper rolls. You have to look over this abc news video documentary by Dianne Sawyer she started in May of this year. 2011. This is a concept that could change America, and the world, on its ear.
*1885 by German immigrant Eugene Dietzgen who became an American, founded his own engineering supply house as both a dealership and manufacturers representative in Chicago, Illinois.

20lb Wide Format Paper
Amazing how such a concept could grow into such a large variety. Today a choice of Bright Ink Jet 24lb and 20lb Wide Format Paper bond, Translucent Inkjet Paper, Xerographic Bond Paper, Engineering Paper 3" Core Rolls, Wide-Format Vinyl Paper, Rag Inkjet Vellum Wide-Format Paper, Heavy Satin Finish Roll Paper, Premium Color; Inkjet Coated Bond Paper, Self Adhesive Printer Paper and even the much respected Roll Recycled Ink Jet Wide Format Papers,

Find us Wide Format Papers #Google+